Divine straightening
The spine is of crucial importance to the health and well-being of man, both on a physical, emotional as on a psychological level. Through the divine alignment energy blockages are removed. Man is as it were newly erected.

The spine is the most important energy canal of our body. Negative experiences in our life and even from pre-birth times are stocked in our spine. This can lead to asymmetrical bodies, blockages and discomfort. This is why the life force can not freely flow. Our nervous system runs through our spine and feeds our internal organs. When the spine is crooked or bend, then the energy flow will be disrupted. This can lead to problems and illness.

Through the divine spine healing you will get new energy, chakras will be opened and the powerful energy of life can flow through the spine. Energy blockages will be removed. The divine alignment is a unique event in which a spiritual healing of body, soul and spirit takes place.

Complaints/application
The divine spine healing can be used for:
Swayback/convex back
Chronical back problems
Scoliosis
Hernia
Pelvic positioning (difference in the length of the legs)
Irregular position of the shoulders
Muscular tension
Whatever complaints you may have on a physical, psychic or mental level... The power of the divine spine healing works on all levels.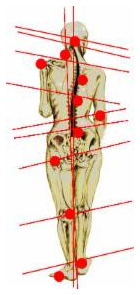 The treatment
The divine spine healing is carried out in the following way:
Explanation of what the divine alignment is
Determination if shoulders, back, spine and pelvis are straight or bend
Photo of leg difference in length
The divine spine straightening
Photo of equal length of legs
Spiritual treatment of about 20 minutes
Determining if shoulders, back, spine and pelvis are straight
Photo material is handed over
The treatment takes place on a massage table. You remain fully clothed. Only the feet are bare. The divine spine healing is done without touching the body and doesn't have to be repeated. It is up to you to deal with the changes in a responsible way. Outwardly the alignment is clearly visible; the inner processes take place over a longer period.
Every human being experiences the divine spine healing in a different way. A deep relaxation can be felt, a reduction of pain, a feeling of liberation, a warm feeling along the spine. Many people can do more than they could before and feel reborn.
Results
The divine spine healing makes sure that:
The position of shoulderblades is correct
The spine is straightened
The position of the pelvis is correct
There is no difference in length of the legs
the energy canals are open
before the straightening:
2,5 cm difference in length.


After the straightening:
No more difference.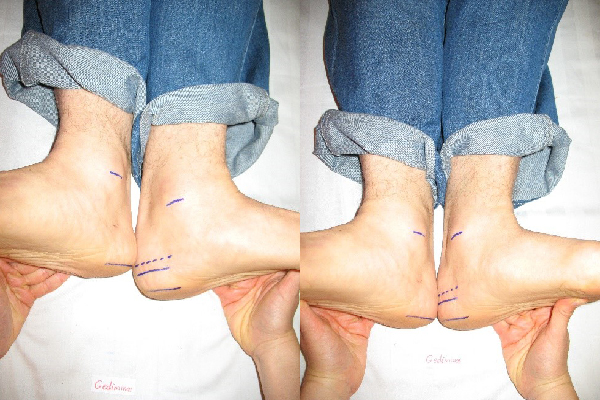 Duration and price
Duration: 90 minutes
Price: € 150,-
Children till 2 years: € 40,-
Children between 3 - 16 years: € 70,-